The nerve center of your machinery -
Hardware configuration / control cabinet construction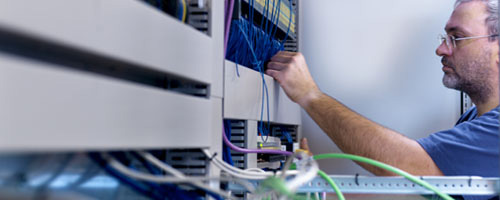 We manufacture enclosures and control stations in accordance with our or also strange to provided circuit documents. We have particular experience in the field of manufacturing of cabinets according to American standards.
Our achievements in detail
installation of control cabinets is in our own production after electrical plans, that can be created internally or supplied by the customer.
we prepare all the necessary documents for the construction, such as cable plans Terminal lists, cabinet layouts, etc.
complex switchgear according to your requirements under Use of high-quality standard components from renowned European manufacturer
application of the devices given by you, components and bus systems
cabinet wiring according to wiring diagram or wiring list
production and delivery of the machine cabling according to your type and length specifications, with or without slings and plug
use of standard labeling systems for appliances, wire and cable Markers
complete electrical design of your switchgear with EPLAN or ecscad (JIC)

electrical assembly and installation on site
design and manufacturing of cabinets according to American standard (JIC).
For more information, read the following article.