Individual and complete solutions for the automatic control engineering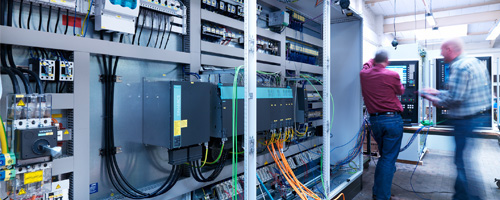 Vosswinkel designs and implements complete and partial solutions for the Automation technology in plant engineering, special and standard machine production - Whether you are planning a new facility or existing machines would like to modernize.
We are your partner for all tasks of the control and drive engineering, NC programming, planning and electrical design, the cabinet design through to installation and commissioning of your plant and machinery on site and the subsequent training of maintenance and operating personnel.
For 50 years we offer the solutions which guarantee the highest efficiency and productiveness. Our national and international customers appreciate the reliable and uncomplicated cooperation with Vosswinkel. The fact that we keep pace with the continuous technological development, gets on by itself.
The automatic control engineering is an important factor, around productiveness and to improve economic efficiency in the enterprise with lasting effect. With us you have innovative partner available to help in connection with the use of individually tailored standard products and application-specific software solutions in the long term to ensure the competitiveness of your company!
We have also developed into a competent partner for the design and the manufacturing of cabinets according to American standard.